News & Events
For all patrons
Here you'll find posts for all our news announcements, programming activities, book reviews, and other events.
You can also join us for live programing on our Facebook Page or view recorded videos on our YouTube Channel.
Learn how to make these adorable pom pom bunnies! You will need the following supplies: yarn (about 30 yards for the big pom pom and 25 for the small) felt scraps of the same color pom pom of the same color 3x3" square of pink felt a pony bead googly eyes 1 foot of...
read more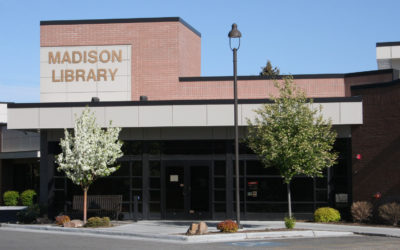 It's National Library Week! We love our library and everyone who comes to visit. Try doing a scavenger hunt at the library to find all the different...
read more
Limited Hours Starting February 10
Monday and Tuesday: 9:00 am – 5:00 pm
Wednesday & Thursday: 12:00 pm – 8:00 pm
Friday: 10:00 am to 6:00 pm
Saturday & Sunday: CLOSED
Library Building is OPEN
NO Curbside Pickup
(Book Drop is OPEN)
Closures in 2021
January 1 – New Year's
January 18 – Martin Luther King, Jr., Day
February 15 – President's Day
March 26 – Staff Development Day
April 3 – Closed for Maintenance
May 29-31 – Memorial Day
July 5 – Independence Day
September 4-6 – Labor Day
October 2 – Closed for Maintenance
November 11 – Veteran's Day
November 24 – Closing at 5 pm
November 25-26 – Thanksgiving
December 24-27 – Christmas
December 31, 2020 – January 1, 2021 – New Year's
Address
73 North Center
Rexburg, Idaho 83440
We are located on Center Street, just north of Main Street, by the Historic Rexburg Tabernacle.