News & Events
For all patrons
Here you'll find posts for all our news announcements, programming activities, book reviews, and other events.
You can also join us for live programing on our Facebook Page or view recorded videos on our YouTube Channel.
Snow has joined us at the library! Find fun books and activities centered around "S"NOWJoin us Monday, Tuesdays, and Wednesdays at 10:30 a.m. or Tuesdays at 6:30 p.m. in the Community Room. Ages 2-5Sing, Talk, Read, Write, Play Tip Grownups, we know that making...
read more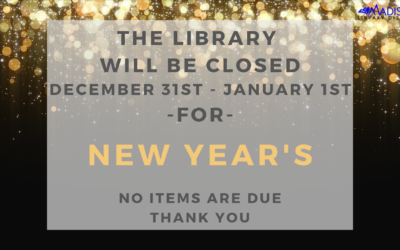 The library will be closed Friday, December 31st, and Saturday, January 1st, for the New Year holiday. Not items will be due and the book drop will...
read more
Regular Hours of Operation
Monday – Thursday: 9:00 am – 8:00 pm
Friday: 10:00 am – 6:00 pm
Saturday: 10:00 am – 4:00 pm
Sunday: CLOSED
Closures in 2022
January 1 – New Year's
January 17 – Martin Luther King, Jr., Day
February 21 – President's Day
April 2 – Closed for Maintenance
May 28-30 – Memorial Day
June 20 – Juneteenth
July 4 – Independence Day
September 3-5 – Labor Day
October 1 – Closed for Maintenance
November 11 – Veteran's Day
November 23 – Closing at 5 pm
November 24-26 – Thanksgiving
December 23-26 – Christmas
December 30-31, 2022 – New Year's
January 2, 2023 – New Year's Day
Address
73 North Center
Rexburg, Idaho 83440
We are located on Center Street, just north of Main Street, by the Historic Rexburg Tabernacle.