Activities Blog
For KIDS AND TWEENS AGES 6 TO 11
Here you'll find all the blog posts for our Kids and Tween STEAM Activities. You can also watch all the How-To videos on our YouTube channel.
Kid and Tween STEAM Activities are held every second and fourth Tuesday. Take n' Go Kits with all the supplies are available the scheduled day of the craft at our Youth Services Desk while supplies last.
LOOK OUT!  This awesome catapult will send things FLYING. Here is what you will need to put this together: 10 pencils  Spoon 16 rubber bands Soft launching materials (pom-poms, marshmallows, etc)
read more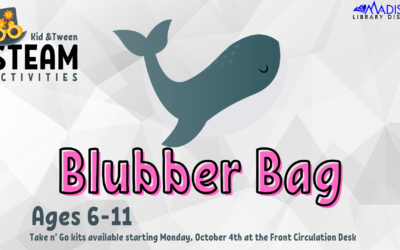 Our first Take N' Go STEAM kit for October is learning how creatures survive and thrive in cold climates. The kit comes with a super cool BLUBBER...
read more
Regular Hours of Operation
Monday – Thursday: 9:00 am – 8:00 pm
Friday: 10:00 am – 6:00 pm
Saturday: 10:00 am – 4:00 pm
Sunday: CLOSED
Closures in 2021
January 1 – New Year's
January 18 – Martin Luther King, Jr., Day
February 15 – President's Day
March 26 – Staff Development Day
April 3 – Closed for Maintenance
May 29-31 – Memorial Day
July 5 – Independence Day
September 4-6 – Labor Day
September 24 – Staff Development Day
October 2 – Closed for Maintenance
November 11 – Veteran's Day
November 24 – Closing at 5 pm
November 25-27 – Thanksgiving
December 24-27 – Christmas
December 31, 2020 – January 1, 2021 – New Year's
Address
73 North Center
Rexburg, Idaho 83440
We are located on Center Street, just north of Main Street, by the Historic Rexburg Tabernacle.