Activities Blog
For KIDS AND TWEENS AGES 6 TO 11
Here you'll find all the blog posts for our Kids and Tween STEAM Activities. You can also watch all the How-To videos on our YouTube channel.
Kid and Tween STEAM Activities are held every second and fourth Tuesday. Take n' Go Kits with all the supplies are available the scheduled day of the craft at our Youth Services Desk while supplies last.
Try your hand at cut paper art and play with perspective with this hot air balloon art craft! Things you will need include: Scissors Glue stick Something round to trace a circle from (such as a cup) Markers Paper for the sky, grass/trees, balloon basket, and clouds 6...
read more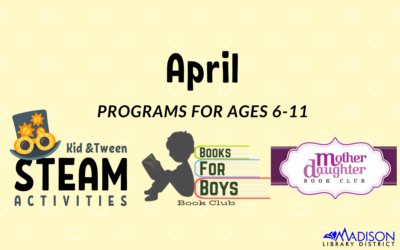 Come to our Mother Daughter Book Club meeting on Thursday, April 1st at 6:30- 7:30 p.m.! This month we're talking about Tuesdays at the Castle by...
read more
Limited Hours Starting February 10
Monday and Tuesday: 9:00 am – 5:00 pm
Wednesday & Thursday: 12:00 pm – 8:00 pm
Friday: 10:00 am to 6:00 pm
Saturday & Sunday: CLOSED
Library Building is OPEN
NO Curbside Pickup
(Book Drop is OPEN)
Closures in 2021
January 1 – New Year's
January 18 – Martin Luther King, Jr., Day
February 15 – President's Day
March 26 – Staff Development Day
April 3 – Closed for Maintenance
May 29-31 – Memorial Day
July 5 – Independence Day
September 4-6 – Labor Day
October 2 – Closed for Maintenance
November 11 – Veteran's Day
November 24 – Closing at 5 pm
November 25-26 – Thanksgiving
December 24-27 – Christmas
December 31, 2020 – January 1, 2021 – New Year's
Address
73 North Center
Rexburg, Idaho 83440
We are located on Center Street, just north of Main Street, by the Historic Rexburg Tabernacle.