Activities Blog
For KIDS AND TWEENS AGES 6 TO 11
Here you'll find all the blog posts for our Kids and Tween STEAM Activities. You can also watch all the How-To videos on our YouTube channel.
Kid and Tween STEAM Activities are held every second and fourth Tuesday. Take n' Go Kits with all the supplies are available the scheduled day of the craft at our Youth Services Desk while supplies last.
What will YOU make with three large pieces of butcher paper? There are so many possibilities! Pick up yours today.
read more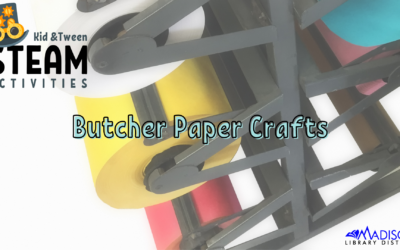 Check out our January kid and tween STEAM Take N' Go kits below. Each will be available through curbside pickup. Instructions will be available on...
read more
Limited Hours Starting October 12
Monday and Tuesday: 9:00 am – 3:00 pm
Wednesday & Thursday: 1:00 pm – 7:00 pm
Friday: 10:00 am to 4:00 pm
Saturday & Sunday: CLOSED
Curbside Pickup ONLY
(Library Building is Closed – Book Drop is OPEN)
Closures in 2021
January 1 – New Year's
January 18 – Martin Luther King, Jr., Day
February 15 – President's Day
April 3– Closed for Maintenance
July 5 – Independence Day
September 4-6 – Labor Day
October 2 – Closed for Maintenance
November 11 – Veteran's Day
November 24 – Closing at 5 pm
November 25-26 – Thanksgiving
December 24-27 – Christmas
December 31, 2020 – January 1, 2021 – New Year's
Address
73 North Center
Rexburg, Idaho 83440
We are located on Center Street, just north of Main Street, by the Historic Rexburg Tabernacle.