A Community Reading Event
Each winter we host a month long community reading event we call On the Same Page. Basically, we hand out hundreds of copies of a selected book and then spend a month exploring it through activities, lectures, concerts, and contests. Think of it as a county-wide book club. Read with your neighbors and friends, talk about what you read, and come and join in the fun.
February 2021
Persuasion by Jane Austen
Your votes chose this classic!
Book & Activity Kit Release!
FRIDAY, JANUARY 29, at our curbside pickup
Stop by the library for your free copy of Jane Austen's Persuasion. The first hundred people can pick up a kit containing the novel, the reader's guide, instructions for a scavenger hunt, a walking challenge, instructions for playing the popular card game of the era, whist, along with a deck of cards, and some herbal tea. One kit per household please. After the kits are gone, we may not be able to provide the cards and tea, but we'll still have a few hundred books available and can give out instructions for the activities as long as anyone's interested.
Doily Notecard Craft Available
Monday, February 8, at our Curbside pickup
Pick up a kit at the library containing some paper doilies and ideas for their use. Watch our How-To video on our YouTube channel!
"Persuasion's Alternate Ending:"
How Jane Austen Rewrote Romance in Her Last Novel
Wednesday, February 17, Via our YouTube Channel
Join BYU-Idaho English Professor Jacqueline Harris as she helps us understand how Austen's Persuasion differs from her other novels, what she changed about the heroine, the concept of romance, marriage ideals, and the original discarded ending.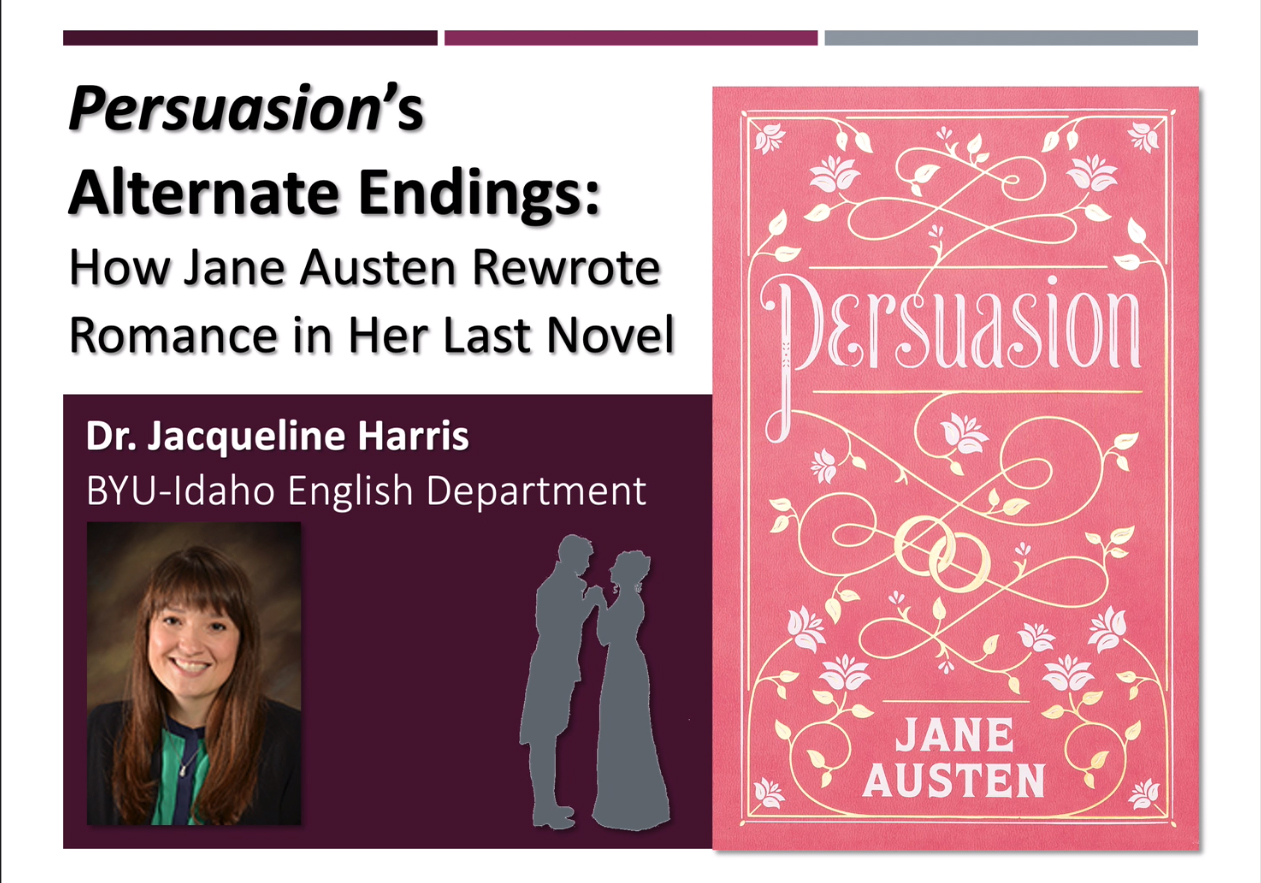 Open Book Discussion
Thursday, February 18, Via Zoom
Join us for an open and informal discussion of Persuasion. Here is the access for the Zoom meeting.
The Passcode is "Austen"
Regency Dance Lesson
Friday, February 26, Via YouTube
Join us to learn steps to some basic dances of the time period. It will be helpful to have a small group working together. Four would be ideal, but we know you can figure things out with fewer if necessary.  
Video will be available at 7:30pm! We hope you join us for a fun lesson!
Regency Ball and Concert
Friday, February 26, Via YouTube
If you just finished learning the dance steps, we know you'll want to try them out. Have an intimate ball in your living room as our trio plays tunes from the era. If you're not a dancer, think of it as a cozy concert in your home. Video will be available at 7:30pm! Practice your skills to our Library Trio!
Selfie Scavenger Hunt
Entries Due by Noon, Monday, February 22
This February, be on the lookout for things that tie in to our On the Same Page book Persuasion. See if you can get a photo of each of the following items. So that we'll know it wasn't something you just Google searched, we want to see you in the picture as well! Print out your photos and turn them in before noon on Monday, February 22. We'll see who can get the most to win a volume containing all of Jane Austen's novels. If there are multiple people getting all of them, we'll have to see who has the closest representation to what's in the book!
CLICK HERE FOR A LIST OF ITEMS TO SEARCH FOR
A Good Long Walk
Logs due by noon, Monday, February 22
As all Austen readers know, her characters are champion walkers. Whatever the novel, the heroine will at some point go on a good, long walk. Persuasion is no exception as all the younger folk at Uppercross head over the hills to stretch their legs. We're going to take the outing a bit further and take the major journeys of the novel on foot as well. You can decide how much you're willing to take on and which direction you'd like to go. Feel like some time by the sea? It's 17 miles to Lyme Regis. Spend your month there if you'd like. Do you prefer the society of Bath? That's a little longer journey at 47 miles. Enjoy the concerts and parties! If you're really just wanting to walk and then walk some more, you could walk to Lyme Regis and from there to Bath for a total of 77 miles. Don't worry, you can send for a carriage at any time.
It doesn't matter which destination you select. Anyone turning their log in before noon on Monday, February 22, will be entered into a drawing for a volume containing all of Jane Austen's works.
An Evening Party
How to Play Whist
Whist is a classic English trick-taking card game which was widely played in the 18th and 19th centuries. Austen mentions this game repeatedly throughout her books. Although the rules are simple, there is scope for scientific play.
Reader's Guide
Persuasion is the last novel fully completed by Jane Austen. It was published at the end of 1817, six months after her death. The story concerns Anne Elliot, a young Englishwoman of twenty-seven years, whose family moves to lower their expenses and reduce their debt by renting their home to an Admiral and his wife. The wife's brother, Navy Captain Frederick Wentworth, was engaged to Anne in 1806, but the engagement was broken when Anne was "persuaded" by her friends and family to end their relationship. Anne and Captain Wentworth, both single and unattached, meet again after a eight-year separation, setting the scene for many humorous encounters as well as a second, well-considered chance at love and marriage for Anne in her second "bloom".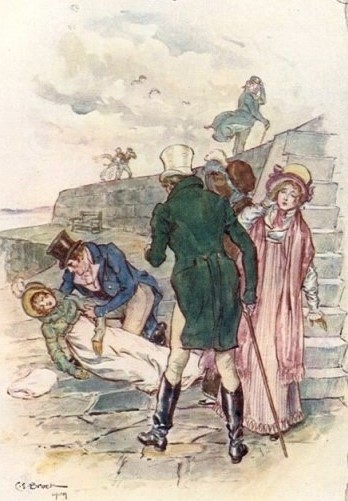 Here are some of our previous reader's guides from past years' events:
Peter Pan by J. M. Barrie (2020)
A free-spirited and mischievous young boy who can fly and never grows up, Peter Pan spends his never-ending childhood having adventures with his friends on the mythical island of Neverland.
The Scarlet Pimpernel by Emmuska Orczy (2019)
Armed with only his wits and his cunning, one man recklessly defies the French revolutionaries and rescues scores of innocent men, women, and children from the deadly guillotine.
Just So Stories by Rudyard Kipling (2018)
The delightful tales of whales and cats and kangaroos and crabs and ….  Enchanting and funny, these fantastical stories continue to delight each and every generation.
Murder on the Orient Express by Agatha Christie (2017)
On the fabled Orient Express, thirteen travelers, each bearing a secret, will find themselves suspect in the most ingenious crime Hercule Poirot has ever solved.
A Room With a View by E.M. Forster (2016)
The enduring delight of this tale of Edwardian romantic intrigue is rooted in Forster's colorful characters, including outrageous spinsters, pompous clergymen, and outspoken patriots.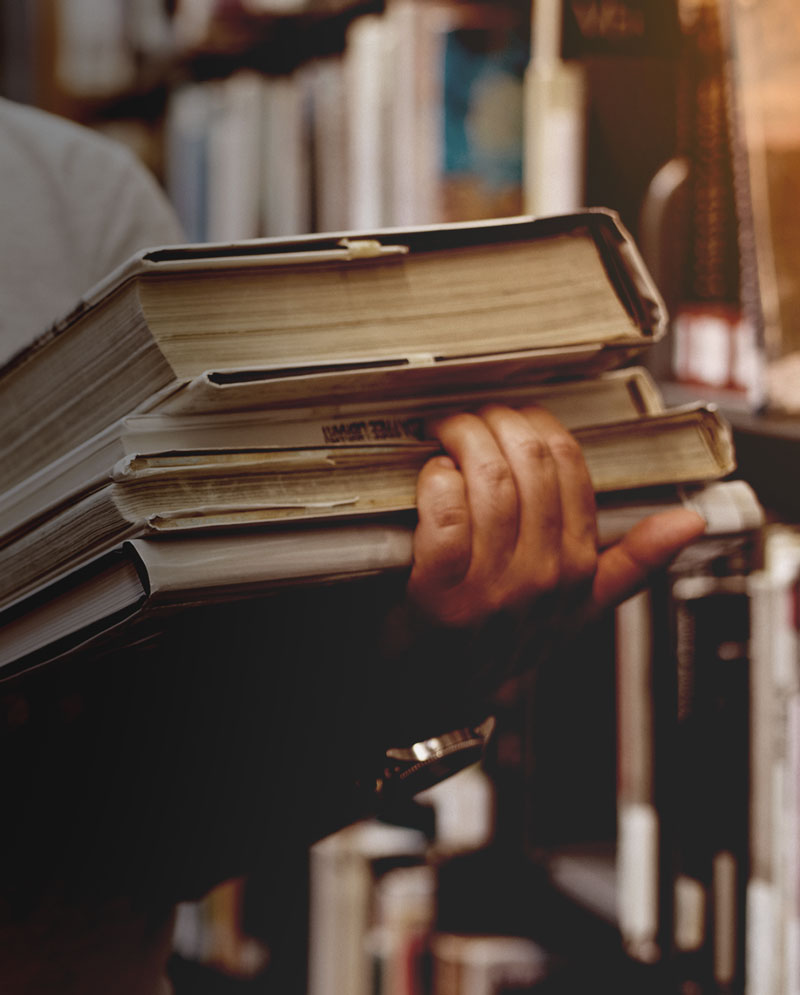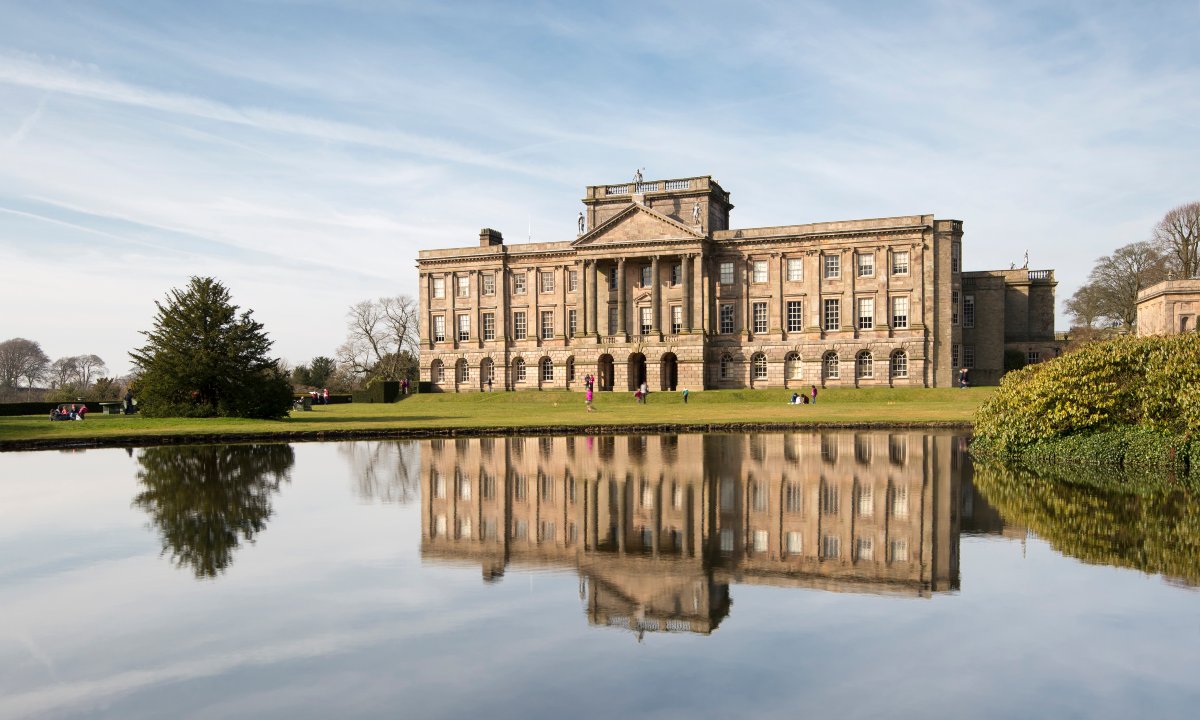 Selfie Scavenger Hunt
Entries due by Noon, Monday, February 22
---
See if you can get a photo of each of the following items:
1 – Tea Pot
2 – "Great House"
3 – Ship
4 – Letter
5 – Calling Card
6 – Seagull
7 – Stile
8 – Stone Steps
9 – Cast Limb
10 – Horse
11 – Concert Hall
12 – Dam, Dike, or Jetty
13 – Volume of Poetry
14 – People Playing Cards
15 – Concert Hall
Regular Hours of Operation
Monday – Thursday: 9:00 am – 8:00 pm
Friday: 10:00 am – 6:00 pm
Saturday: 10:00 am – 4:00 pm
Sunday: CLOSED
Closures in 2021
January 1 – New Year's
January 18 – Martin Luther King, Jr., Day
February 15 – President's Day
March 26 – Staff Development Day
April 3 – Closed for Maintenance
May 29-31 – Memorial Day
July 5 – Independence Day
September 4-6 – Labor Day
September 24 – Staff Development Day
October 2 – Closed for Maintenance
November 11 – Veteran's Day
November 24 – Closing at 5 pm
November 25-27 – Thanksgiving
December 24-27 – Christmas
December 31, 2020 – January 1, 2021 – New Year's
Address
73 North Center
Rexburg, Idaho 83440
We are located on Center Street, just north of Main Street, by the Historic Rexburg Tabernacle.