YALSA's Teens' Top Ten
Nominees for 2018
1. Turtles All the Way Down by John Green
---
Sixteen-year-old Aza never intended to pursue the mystery of fugitive billionaire Russell Pickett, but there's a hundred-thousand-dollar reward at stake and her Best and Most Fearless Friend, Daisy, is eager to investigate. So together, they navigate the short distance and broad divides that separate them from Russell Pickett's son, Davis.
Aza is trying. She is trying to be a good daughter, a good friend, a good student, and maybe even a good detective, while also living within the ever-tightening spiral of her own thoughts.
In his long-awaited return, John Green, the acclaimed, award-winning author of Looking for Alaska and The Fault in Our Stars, shares Aza's story with shattering, unflinching clarity in this brilliant novel of love, resilience, and the power of lifelong friendship.
2. One of Us is Lying by Karen M. McManus
---
The Breakfast Club meets Pretty Little Liars, One of Us Is Lying is the story of what happens when five strangers walk into detention and only four walk out alive. Everyone is a suspect, and everyone has something to hide.
Pay close attention and you might solve this.
On Monday afternoon, five students at Bayview High walk into detention.
Bronwyn, the brain, is Yale-bound and never breaks a rule. 
Addy, the beauty, is the picture-perfect homecoming princess. 
Nate, the criminal, is already on probation for dealing.
Cooper, the athlete, is the all-star baseball pitcher.
And Simon, the outcast, is the creator of Bayview High's notorious gossip app.
Only, Simon never makes it out of that classroom. Before the end of detention, Simon's dead. And according to investigators, his death wasn't an accident. On Monday, he died. But on Tuesday, he'd planned to post juicy reveals about all four of his high-profile classmates, which makes all four of them suspects in his murder. Or are they the perfect patsies for a killer who's still on the loose? 
Everyone has secrets, right? What really matters is how far you would go to protect them."
3. Warcross by Marie Lu
---
For the millions who log in every day, Warcross isn't just a game—it's a way of life. The obsession started ten years ago and its fan base now spans the globe, some eager to escape from reality and others hoping to make a profit. Struggling to make ends meet, teenage hacker Emika Chen works as a bounty hunter, tracking down players who bet on the game illegally. But the bounty hunting world is a competitive one, and survival has not been easy. Needing to make some quick cash, Emika takes a risk and hacks into the opening game of the international Warcross Championships—only to accidentally glitch herself into the action and become an overnight sensation.
Convinced she's going to be arrested, Emika is shocked when instead she gets a call from the game's creator, the elusive young billionaire Hideo Tanaka, with an irresistible offer. He needs a spy on the inside of this year's tournament in order to uncover a security problem . . . and he wants Emika for the job. With no time to lose, Emika's whisked off to Tokyo and thrust into a world of fame and fortune that she's only dreamed of. But soon her investigation uncovers a sinister plot, with major consequences for the entire Warcross empire.
book 1 in the Warcross series
4. Wonder Woman: Warbringer by Leigh Bardugo
---
Daughter of immortals.
Princess Diana longs to prove herself to her legendary warrior sisters. But when the opportunity finally comes, she throws away her chance at glory and breaks Amazon law—risking exile—to save a mortal. Diana will soon learn that she has rescued no ordinary girl, and that with this single brave act, she may have doomed the world.
Daughter of death.
Alia Keralis just wanted to escape her overprotective brother with a semester at sea. She doesn't know she is being hunted by people who think her very existence could spark a world war. When a bomb detonates aboard her ship, Alia is rescued by a mysterious girl of extraordinary strength and forced to confront a horrible truth: Alia is a Warbringer—a direct descendant of the infamous Helen of Troy, fated to bring about an age of bloodshed and misery.
Together.
Two girls will face an army of enemies—mortal and divine—determined to either destroy or possess the Warbringer. Tested beyond the bounds of their abilities, Diana and Alia must find a way to unleash hidden strengths and forge an unlikely alliance. Because if they have any hope of saving both their worlds, they will have to stand side by side against the tide of war.
book 1 in the DC Icons series
5. Caraval by Stephanie Garber
---
Remember, it's only a game…
Scarlett Dragna has never left the tiny island where she and her sister, Tella, live with their powerful, and cruel, father. Now Scarlett's father has arranged a marriage for her, and Scarlett thinks her dreams of seeing Caraval—the faraway, once-a-year performance where the audience participates in the show—are over.
But this year, Scarlett's long-dreamt-of invitation finally arrives. With the help of a mysterious sailor, Tella whisks Scarlett away to the show. Only, as soon as they arrive, Tella is kidnapped by Caraval's mastermind organizer, Legend. It turns out that this season's Caraval revolves around Tella, and whoever finds her first is the winner.
Scarlett has been told that everything that happens during Caraval is only an elaborate performance. Nevertheless she becomes enmeshed in a game of love, heartbreak, and magic. And whether Caraval is real or not, Scarlett must find Tella before the five nights of the game are over or a dangerous domino effect of consequences will be set off, and her beloved sister will disappear forever.
Welcome, welcome to Caraval…beware of getting swept too far away.
book 1 in the Caraval series
6. Long Way Down by Jason Reynolds
---
A cannon. A strap.
A piece. A biscuit.
A burner. A heater.
A chopper. A gat.
A hammer
A tool
for RULE
Or, you can call it a gun. That's what fifteen-year-old Will has shoved in the back waistband of his jeans. See, his brother Shawn was just murdered. And Will knows the rules. No crying. No snitching. Revenge. That's where Will's now heading, with that gun shoved in the back waistband of his jeans, the gun that was his brother's gun. He gets on the elevator, seventh floor, stoked. He knows who he's after. Or does he? 
As the elevator stops on the sixth floor, on comes Buck. Buck, Will finds out, is who gave Shawn the gun before Will took the gun. Buck tells Will to check that the gun is even loaded. And that's when Will sees that one bullet is missing. And the only one who could have fired Shawn's gun was Shawn. Huh. Will didn't know that Shawn had ever actually used his gun. Bigger huh. BUCK IS DEAD. But Buck's in the elevator?
Just as Will's trying to think this through, the door to the next floor opens. A teenage girl gets on, waves away the smoke from Dead Buck's cigarette. Will doesn't know her, but she knew him. Knew. When they were eight. And stray bullets had cut through the playground, and Will had tried to cover her, but she was hit anyway, and so what she wants to know, on that fifth floor elevator stop, is, what if Will, Will with the gun shoved in the back waistband of his jeans, MISSES.
And so it goes, the whole long way down, as the elevator stops on each floor, and at each stop someone connected to his brother gets on to give Will a piece to a bigger story than the one he thinks he knows. A story that might never know an END…if WILL gets off that elevator.
7. I Am Not Your Perfect Mexican Daughter by Erika L. Sánchez
---
Perfect Mexican daughters do not go away to college. And they do not move out of their parents' house after high school graduation. Perfect Mexican daughters never abandon their family.
But Julia is not your perfect Mexican daughter. That was Olga's role. 
Then a tragic accident on the busiest street in Chicago leaves Olga dead and Julia left behind to reassemble the shattered pieces of her family. And no one seems to acknowledge that Julia is broken, too. Instead, her mother seems to channel her grief into pointing out every possible way Julia has failed.
But it's not long before Julia discovers that Olga might not have been as perfect as everyone thought. With the help of her best friend Lorena, and her first kiss, first love, first everything boyfriend Connor, Julia is determined to find out. Was Olga really what she seemed? Or was there more to her sister's story? And either way, how can Julia even attempt to live up to a seemingly impossible ideal?
8. Paper Hearts by Ali Novak
---
"When I met Alec Williams, I nearly fainted. Totally embarrassing, but how often does a regular girl get to meet a famous heartthrob?"
Felicity has been living in the shadow of her best friend Lucy since they were kids. But things change when she is introduced to a quiet guy named Alec. At first Felicity is intimidated by his fame, but as the two grow closer she starts to realize that Alec just might be the guy of her dreams. No other guy has ever made her feel so alive. 
The only problem? Lucy has different plans for Alec—plans that start with prom. 
Felicity quickly realizes that she will have to make a decision. Will she choose her best friend who has always been there for her, or the mysterious boy that she can't stop thinking about? Whatever her choice, someone is going to be left broken hearted.
Meet… The Queen of Hearts.
book 2 in The Heartbreakers Chronicles series
9. Strange the Dreamer by Laini Taylor
---
The dream chooses the dreamer, not the other way around—and Lazlo Strange, war orphan and junior librarian, has always feared that his dream chose poorly. Since he was five years old he's been obsessed with the mythic lost city of Weep, but it would take someone bolder than he to cross half the world in search of it. Then a stunning opportunity presents itself, in the person of a hero called the Godslayer and a band of legendary warriors, and he has to seize his chance or lose his dream forever.
What happened in Weep two hundred years ago to cut it off from the rest of the world? What exactly did the Godslayer slay that went by the name of god? And what is the mysterious problem he now seeks help in solving?
The answers await in Weep, but so do more mysteries—including the blue-skinned goddess who appears in Lazlo's dreams. How did he dream her before he knew she existed? And if all the gods are dead, why does she seem so real?
Welcome to Weep.
book 1 in the Strange the Dreamer series
10. Once and For All by Sarah Dessen
---
Louna, daughter of famed wedding planner Natalie Barrett, has seen every sort of wedding: on the beach, at historic mansions, in fancy hotels and clubs. Perhaps that's why she's cynical about happily-ever-after endings, especially since her own first love ended tragically. When Louna meets charming, happy-go-lucky serial dater Ambrose, she holds him at arm's length. But Ambrose isn't about to be discouraged, now that he's met the one girl he really wants. 
Sarah Dessen's many, many fans will adore her latest, a richly satisfying, enormously entertaining story that has everything—humor, romance, and an ending both happy and imperfect, just like life itself.
And the other nominees were…
All Rights Reserved by Gregory Scott Katsoulis
---
In a world where every word and gesture is copyrighted, patented or trademarked, one girl elects to remain silent rather than pay to speak, and her defiant and unexpected silence threatens to unravel the very fabric of society.
Speth Jime is anxious to deliver her Last Day speech and celebrate her transition into adulthood. The moment she turns fifteen, Speth must pay for every word she speaks ("Sorry" is a flat ten dollars and a legal admission of guilt), for every nod ($0.99/sec), for every scream ($0.99/sec) and even every gesture of affection. She's been raised to know the consequences of falling into debt, and can't begin to imagine the pain of having her eyes shocked for speaking words that she's unable to afford.
But when Speth's friend Beecher commits suicide rather than work off his family's crippling debt, she can't express her shock and dismay without breaking her Last Day contract and sending her family into Collection. Backed into a corner, Speth finds a loophole: rather than read her speech–rather than say anything at all–she closes her mouth and vows never to speak again. Speth's unexpected defiance of tradition sparks a media frenzy, inspiring others to follow in her footsteps, and threatens to destroy her, her family and the entire city around them.
book 1 in the Word$ series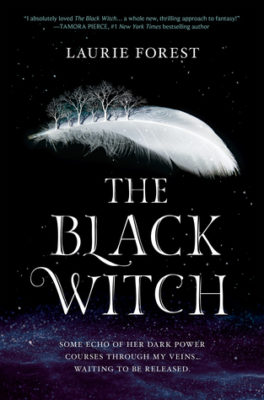 The Black Witch by Laurie Forest
---
Elloren Gardner is the granddaughter of the last prophesied Black Witch, Carnissa Gardner, who drove back the enemy forces and saved the Gardnerian people during the Realm War. But while she is the absolute spitting image of her famous grandmother, Elloren is utterly devoid of power in a society that prizes magical ability above all else.
When she is granted the opportunity to pursue her lifelong dream of becoming an apothecary, Elloren joins her brothers at the prestigious Verpax University to embrace a destiny of her own, free from the shadow of her grandmother's legacy. But she soon realizes that the university, which admits all manner of people—including the fire-wielding, winged Icarals, the sworn enemies of all Gardnerians—is a treacherous place for the granddaughter of the Black Witch.
As evil looms on the horizon and the pressure to live up to her heritage builds, everything Elloren thought she knew will be challenged and torn away. Her best hope of survival may be among the most unlikely band of misfits…if only she can find the courage to trust those she's been taught to hate and fear.
book 1 in The Black Witch Chronicles series
Book of Lies by Teri Terry
---
They are trapped, frozen. Waiting. Straining against the wood that holds them. The unwary catch a glimpse now and then – feel their desperate hunger, see a glint of red eyes – and scurry out of the shadows of the wood, back to the light.
She's coming; it will be soon.
They will run free on the moors again. The Hunt will return. 
And the ground will run with blood.
An ancient curse placed on a family of witches foretells that twins will be born – one good, one evil; and one will destroy the other. But who can be trusted when no one is as they seem?
Defy the Stars by Claudia Gray
---
She's a soldier – Noemi Vidal is willing to risk anything to protect her planet, Genesis, including her own life. To their enemies on Earth, she's a rebel.
He's a machine – Abandoned in space for years, utterly alone, Abel's advanced programming has begun to evolve. He wants only to protect his creator, and to be free. To the people of Genesis, he's an abomination.
Noemi and Abel are enemies in an interstellar war, forced by chance to work together as they embark on a daring journey through the stars. Their efforts would end the fighting for good, but they're not without sacrifice. The stakes are even higher than either of them first realized, and the more time they spend together, the more they're forced to question everything they'd been taught was true.
book 1 in the Constellation series
The Disappearances by Emily Bain Murphy
---
What if the ordinary things in life suddenly…disappeared?
Aila Quinn's mother, Juliet, has always been a mystery: vibrant yet guarded, she keeps her secrets beyond Aila's reach. When Juliet dies, Aila and her younger brother Miles are sent to live in Sterling, a rural town far from home–and the place where Juliet grew up.
Sterling is a place with mysteries of its own. A place where the experiences that weave life together–scents of flowers and food, reflections from mirrors and lakes, even the ability to dream–vanish every seven years.
No one knows what caused these "Disappearances," or what will slip away next. But Sterling always suspected that Juliet Quinn was somehow responsible–and Aila must bear the brunt of their blame while she follows the chain of literary clues her mother left behind.
As the next Disappearance nears, Aila begins to unravel the dual mystery of why the Disappearances happen and who her mother truly was. One thing is clear: Sterling isn't going to hold on to anyone's secrets for long before it starts giving them up.
How to Make a Wish by Ashley Herring Blake
---
All seventeen year-old Grace Glasser wants is her own life. A normal life in which she sleeps in the same bed for longer than three months and doesn't have to scrounge for spare change to make sure the electric bill is paid. Emotionally trapped by her unreliable mother, Maggie, and the tiny cape on which she lives, she focuses on her best friend, her upcoming audition for a top music school in New York, and surviving Maggie's latest boyfriend—who happens to be Grace's own ex-boyfriend's father.
Her attempts to lay low until she graduates are disrupted when she meets Eva, a girl with her own share of ghosts she's trying to outrun. Grief-stricken and lonely, Eva pulls Grace into midnight adventures and feelings Grace never planned on. When Eva tells Grace she likes girls, both of their worlds open up. But, united by loss, Eva also shares a connection with Maggie. As Grace's mother spirals downward, both girls must figure out how to love and how to move on.
The Inexplicable Logic of My Life by Benjamin Alire Sáenz
---
The first day of senior year:
Everything is about to change. Until this moment, Sal has always been certain of his place with his adoptive gay father and their loving Mexican-American family. But now his own history unexpectedly haunts him, and life-altering events force him and his best friend, Samantha, to confront issues of faith, loss, and grief.
Suddenly Sal is throwing punches, questioning everything, and discovering that he no longer knows who he really is—but if Sal's not who he thought he was, who is he?
Invictus by Ryan Graudin
---
Time flies when you're plundering history.
Farway Gaius McCarthy was born outside of time. The son of a time-traveling Recorder from 2354 AD and a gladiator living in Rome in 95 AD, Far's birth defies the laws of nature. Exploring history himself is all he's ever wanted, and after failing his final time-traveling exam, Far takes a position commanding a ship with a crew of his friends as part of a black market operation to steal valuables from the past. 
But during a heist on the sinking Titanic, Far meets a mysterious girl who always seems to be one step ahead of him. Armed with knowledge that will bring Far's very existence into question, she will lead Far and his team on a race through time to discover a frightening truth: History is not as steady as it seems.
The Last Magician by Lisa Maxwell
---
Stop the Magician. Steal the book. Save the future.
In modern-day New York, magic is all but extinct. The remaining few who have an affinity for magic—the Mageus—live in the shadows, hiding who they are. Any Mageus who enters Manhattan becomes trapped by the Brink, a dark energy barrier that confines them to the island. Crossing it means losing their power—and often their lives.
Esta is a talented thief, and she's been raised to steal magical artifacts from the sinister Order that created the Brink. With her innate ability to manipulate time, Esta can pilfer from the past, collecting these artifacts before the Order even realizes she's there. And all of Esta's training has been for one final job: traveling back to 1902 to steal an ancient book containing the secrets of the Order—and the Brink—before the Magician can destroy it and doom the Mageus to a hopeless future.
But Old New York is a dangerous world ruled by ruthless gangs and secret societies, a world where the very air crackles with magic. Nothing is as it seems, including the Magician himself. And for Esta to save her future, she may have to betray everyone in the past.
book 1 in The Last Magician series
Mask of Shadows by Linsey Miller
---
I Needed to Win.
They Needed to Die.
Sallot Leon is a thief, and a good one at that. But gender fluid Sal wants nothing more than to escape the drudgery of life as a highway robber and get closer to the upper-class—and the nobles who destroyed their home. 
When Sal steals a flyer for an audition to become a member of The Left Hand—the Queen's personal assassins, named after the rings she wears—Sal jumps at the chance to infiltrate the court and get revenge. 
But the audition is a fight to the death filled with clever circus acrobats, lethal apothecaries, and vicious ex-soldiers. A childhood as a common criminal hardly prepared Sal for the trials. And as Sal succeeds in the competition, and wins the heart of Elise, an intriguing scribe at court, they start to dream of a new life and a different future, but one that Sal can have only if they survive.
book 1 in the Mask of Shadows series
Moxie by Jennifer Mathieu
---
Moxie girls fight back!
Vivian Carter is fed up. Fed up with her small-town Texas high school that thinks the football team can do no wrong. Fed up with sexist dress codes and hallway harassment. But most of all, Viv Carter is fed up with always following the rules.
Viv's mom was a punk rock Riot Grrrl in the '90s, so now Viv takes a page from her mother's past and creates a feminist zine that she distributes anonymously to her classmates. She's just blowing off steam, but other girls respond. Pretty soon Viv is forging friendships with other young women across the divides of cliques and popularity rankings, and she realizes that what she has started is nothing short of a girl revolution.
Remember Me Always by Renee Collins
---
Shelby is nervous to start her senior year after spending the whole summer away from home. After all, it's hard to be carefree when you're trying to protect a secret.
Shelby was in a devastating car accident, and everyone in town thinks that she was undergoing more physical therapy in Denver. Instead, Shelby's mother enrolled her in a clinical program to stop the panic attacks that started after the crash. The treatment erased Shelby's memory of the accident, but she can't help feeling as if a piece of herself is missing, that the treatment took more than the doctors claimed.
So when Shelby starts hallucinating a boy with dark and mysterious eyes, she knows it must be a side-effect of the clinical program. Except you can't kiss hallucinations. And this boy insists that they know each other and are in love…
Rosemarked by Livia Blackburne
---
A healer who cannot be healed . . .
When Zivah falls prey to the deadly rose plague, she knows it's only a matter of time before she fully succumbs. Now she's destined to live her last days in isolation, cut off from her people and unable to practice her art—until a threat to her village creates a need that only she can fill.
A soldier shattered by war . . .
Broken by torture at the hands of the Amparan Empire, Dineas thirsts for revenge against his captors. Now escaped and reunited with his tribe, he'll do anything to free them from Amparan rule—even if it means undertaking a plan that risks not only his life but his very self.
Thrust together on a high-stakes mission to spy on the capital, the two couldn't be more different: Zivah, deeply committed to her vow of healing, and Dineas, yearning for vengeance. But as they grow closer, they must find common ground to protect those they love. And amidst the constant fear of discovery, the two grapple with a mutual attraction that could break both of their carefully guarded hearts.
book 1 in the Rosemarked series
Waste of Space by Gina Damico
---
Cram ten hormonal teens into a spaceship and blast off: that's the premise for the ill-conceived reality show Waste of Space.
The kids who are cast know everything about drama—and nothing about the fact that the production is fake. Hidden in a desert warehouse, their spaceship replica is equipped with state-of-the-art special effects dreamed up by the scientists partnering with the shady cable network airing the show.
And it's a hit! Millions of viewers are transfixed. But then, suddenly, all communication is severed. Trapped and paranoid, the kids must figure out what to do when this reality show loses its grip on reality.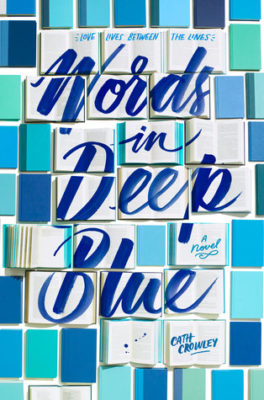 Words in Deep Blue by Cath Crowley
---
This is a love story.
It's the story of Howling Books, where readers write letters to strangers, to lovers, to poets.
It's the story of Henry Jones and Rachel Sweetie. They were best friends once, before Rachel moved to the sea. 
Now, she's back, working at the bookstore, grieving for her brother Cal and looking for the future in the books people love, and the words they leave behind.