YALSA's
Teens' Top Ten
NOMINEES FOR 2020
#MurderFunding by Gretchen McNeil
WELCOME TO WHO WANTS TO BE A PANIAC?, the latest reality TV show on the hunt for the next big-hit serial killer. But don't worry—no one is actually going to…
Read the full synopsis
Are You Listening?
by Tillie Walden
Bea is on the run. And then, she runs into Lou. This chance encounter sends them on a journey through West Texas, where strange things follow …
Read the full synopsis
Aurora Rising
by Amie Kaufman
and Jay Kristoff
The year is 2380, and the graduating cadets of Aurora Academy are being assigned their first missions. Star pupil Tyler Jones is ready to​…
Read the full synopsis
The Beast Player
by Nahoko Uehashi
An epic YA fantasy about a girl with a special power to communicate with magical beasts and the warring kingdom only she can save.  Elin's family has an …
Read the full synopsis
Between Worlds:
Folktales of Britain & Ireland
by Kevin Crossley-Holland
Rich and strange, these eerie and magical folktales from across Britain and Ireland have been passed down from generation to generation, and are gathered…
Read the full synopsis
Broken Throne: A Red Queen Collection
by Victoria Aveyard
Return once more to the deadly and dazzling world of Red Queen in Broken Throne, a beautifully designed, must-have companion to the …
Read the full synopsis
Dreamland:
The True Tale of America's Opiate Epidemic
by Sam Quinones
With a great reporter's narrative skill and the storytelling ability of a novelist, acclaimed journalist Sam Quinones weaves together two …
Read the full synopsis
The Field Guide to the North American Teenager
by Ben Philippe
Norris Kaplan is clever, cynical, and quite possibly too smart for his own good. A black French Canadian, he knows from watching …
Read the full synopsis
Frankly in Love
by David Yoon
High school senior Frank Li is a Limbo–his term for Korean-American kids who find themselves caught between their parents' traditional …
Read the full synopsis
The Grace Year
by Grace Liggett
In Garner County, girls are told they have the power to lure grown men from their beds, to drive women mad with jealousy. They believe their very …
Read the full synopsis
Last Bus to Everland
by Sophie Cameron
Brody Fair feels like nobody gets him: not his overworked parents, not his genius older brother, and definitely not the girls in the …
Read the full synopsis
Laura Dean Keeps Breaking Up with Me
by Mariko Tamaki
Laura Dean, the most popular girl in high school, was Frederica Riley's dream girl: charming, confident, and SO cute. There's just one problem: Laura Dean is maybe …
Read the full synopsis
Lovely War
by Julie Berry
It's 1917, and World War I is at its zenith when Hazel and James first catch sight of each other at a London party. She's a shy and talented …
Read the full synopsis
The Memory Thief
by Lauren Mansy
In the city of Craewick, memories reign. The power-obsessed ruler of the city, Madame, has cultivated a society in which memories are …
Read the full synopsis
My Ideal Boyfriend Is a Croissant
by Laura Dockrill
Sixteen-year-old Bluebelle, also known as BB or Big Bones, lives her life unapologetically. She loves life! She loves food! When BB has a …
Read the full synopsis
Opposite of Always
by Justin A. Reynolds
When Jack and Kate meet at a party, bonding until sunrise over their mutual love of Froot Loops and their favorite flicks, Jack knows …
Read the full synopsis
Pumpkinheads
by Rainbow Rowell
Deja and Josiah are seasonal best friends. Every autumn, all through high school, they've worked together at the best pumpkin patch in the …
Read the full synopsis
Stolen Time
by Danielle Rollins
Dorothy is trapped. Forced into an engagement to a wealthy man just so she and her mother can live comfortably for the …
Read the full synopsis
Stronger Than a Bronze Dragon
by Mary Fan
When a powerful viceroy arrives with a fleet of mechanical dragons and stops an attack on Anlei's village, the villagers see him as …
Read the full synopsis
These Witches Don't Burn
by Isabel Sterling
Hannah's a witch, but not the kind you're thinking of. She's the real deal, an Elemental with the power to control fire, earth, water, and air. But even …
Read the full synopsis
Warhead
by Jeff Henigson
It's 1986, and Jeff is an average fifteen-year-old: he thinks a lot about dating, he bounces around with his friends, and he's trying …
Read the full synopsis
Wayward Son
by Rainbow Rowell
The story is supposed to be over. Simon Snow did everything he was supposed to do. He beat the villain. He won the war. He even …
Read the full synopsis
We Hunt the Flame
by Hafsah Faizal
Zafira is the Hunter, disguising herself as a man when she braves the cursed forest of the Arz to feed her people. Nasir is the Prince of …
Read the full synopsis
Wilder Girls
by Rory Power
It's been eighteen months since the Raxter School for Girls was put under quarantine. Since the Tox hit and pulled Hetty's life out from …
Read the full synopsis
With the Fire on High
by Elizabeth Acevedo
With her daughter to care for and her abuela to help support, high school senior Emoni Santiago has to make the tough decisions, and do what must …
Read the full synopsis
#MurderFunding by Gretchen McNeil
---
WELCOME TO WHO WANTS TO BE A PANIAC?, the latest reality TV show on the hunt for the next big-hit serial killer. But don't worry—no one is actually going to murder anyone, as real as the fake gore and pretend murder may appear . . . uh, right?
Seventeen-year-old Becca Martinello is about to find out. When her perfectly normal soccer mom dies in a car crash, a strange girl named Stef appears to let Becca know that her deceased mom was none other than one of Alcatraz 2.0's most popular serial killers—Molly Mauler. Soon, Becca ends up on Who Wants to Be a Painiac? to learn the truth about her mom's connection to Molly Mauler, but things turn sinister when people are murdered IRL. Will Becca uncover dark secrets and make it out of the deadly reality show alive? Or will she get cut?
book 2 in the #MurderTrending series
Are You Listening? by Tillie Walden
---
Bea is on the run. And then, she runs into Lou.
This chance encounter sends them on a journey through West Texas, where strange things follow them wherever they go. The landscape morphs into an unsettling world, a mysterious cat joins them, and they are haunted by a group of threatening men. To stay safe, Bea and Lou must trust each other as they are driven to confront buried truths. The two women share their stories of loss and heartbreak—and a startling revelation about sexual assault—culminating in an exquisite example of human connection.
Aurora Rising by Amie Kaufman
and Jay Kristoff
---
The year is 2380, and the graduating cadets of Aurora Academy are being assigned their first missions. Star pupil Tyler Jones is ready to recruit the squad of his dreams, but his own boneheaded heroism sees him stuck with the dregs nobody else in the Academy would touch…
A cocky diplomat with a black belt in sarcasm
A sociopath scientist with a fondness for shooting her bunkmates
A smart-ass techwiz with the galaxy's biggest chip on his shoulder
An alien warrior with anger management issues
A tomboy pilot who's totally not into him, in case you were wondering
And Ty's squad isn't even his biggest problem—that'd be Aurora Jie-Lin O'Malley, the girl he's just rescued from interdimensional space. Trapped in cryo-sleep for two centuries, Auri is a girl out of time and out of her depth. But she could be the catalyst that starts a war millions of years in the making, and Tyler's squad of losers, discipline-cases and misfits might just be the last hope for the entire galaxy.
They're not the heroes we deserve. They're just the ones we could find. Nobody panic.
book 1 in The Aurora Rising series
The Beast Player by Nahoko Uehashi
---
An epic YA fantasy about a girl with a special power to communicate with magical beasts and the warring kingdom only she can save.
Elin's family has an important responsibility: caring for the fearsome water serpents that form the core of their kingdom's army. So when some of the beasts mysteriously die, Elin's mother is sentenced to death as punishment. With her last breath she manages to send her daughter to safety.
Alone, far from home, Elin soon discovers that she can talk to both the terrifying water serpents and the majestic flying beasts that guard her queen. This skill gives her great powers, but it also involves her in deadly plots that could cost her life. Can she save herself and prevent her beloved beasts from being used as tools of war? Or is there no way of escaping the terrible battles to come?
books 1 & 2 in The Beast Player series
Between Worlds: Folktales of Britain & Ireland
by Kevin Crossley-Holland
---
The definitive collection of British and Irish folktales from master storyteller and poet Kevin Crossley-Holland.
Rich and strange, these eerie and magical folktales from across Britain and Ireland have been passed down from generation to generation, and are gathered together in a definitive new collection from the master storyteller and winner of the Carnegie Medal, Kevin Crossley-Holland. Dark and funny, lyrical and earthy, these fifty stories are part of an important and enduring historical tradition that dates back hundreds of years. Described by Neil Gaiman as the "master", Crossley-Holland's unforgettable retellings will capture the imagination of readers young and old alike.
Broken Throne: A Red Queen Collection by Victoria Aveyard
---
Return once more to the deadly and dazzling world of Red Queen in Broken Throne, a beautifully designed, must-have companion to the chart-topping series from #1 New York Times bestselling author Victoria Aveyard.
The perfect addition to the #1 New York Times bestselling Red Queen series, this gorgeously designed package features three brand-new novellas, two previously published novellas, Steel Scars and Queen Song, and never-before-seen maps, flags, bonus scenes, journal entries, and much more exclusive content.
Fans will be delighted to catch up with beloved characters after the drama of War Storm and be excited to hear from brand-new voices as well. This stunning collection is not to be missed!
book 4.5 in the Red Queen series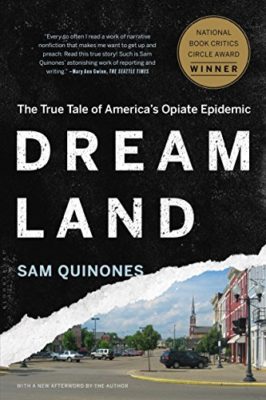 Dreamland: The True Tale of America's Opiate Epidemic
by Sam Quinones
---
In 1929, in the blue-collar city of Portsmouth, Ohio, a company built a swimming pool the size of a football field; named Dreamland, it became the vital center of the community. Now, addiction has devastated Portsmouth, as it has hundreds of small rural towns and suburbs across America–addiction like no other the country has ever faced. How that happened is the riveting story of Dreamland.
With a great reporter's narrative skill and the storytelling ability of a novelist, acclaimed journalist Sam Quinones weaves together two classic tales of capitalism run amok whose unintentional collision has been catastrophic. The unfettered prescribing of pain medications during the 1990s reached its peak in Purdue Pharma's campaign to market OxyContin, its new, expensive–extremely addictive–miracle painkiller. Meanwhile, a massive influx of black tar heroin–cheap, potent, and originating from one small county on Mexico's west coast, independent of any drug cartel–assaulted small town and mid-sized cities across the country, driven by a brilliant, almost unbeatable marketing and distribution system. Together these phenomena continue to lay waste to communities from Tennessee to Oregon, Indiana to New Mexico.
Introducing a memorable cast of characters–pharma pioneers, young Mexican entrepreneurs, narcotics investigators, survivors, and parents–Quinones shows how these tales fit together. Dreamland is a revelatory account of the corrosive threat facing America and its heartland.
The Field Guide to the North American Teenager
by Ben Philippe
---
Norris Kaplan is clever, cynical, and quite possibly too smart for his own good. A black French Canadian, he knows from watching American sitcoms that those three things don't bode well when you are moving to Austin, Texas. Plunked into a new high school and sweating a ridiculous amount from the oppressive Texas heat, Norris finds himself cataloging everyone he meets: the Cheerleaders, the Jocks, the Loners, and even the Manic Pixie Dream Girl. Making a ton of friends has never been a priority for him, and this way he can at least amuse himself until it's time to go back to Canada, where he belongs.
Yet, against all odds, those labels soon become actual people to Norris. Be it loner Liam, who makes it his mission to befriend Norris, or Madison the beta cheerleader, who is so nice that it has to be a trap. Not to mention Aarti the Manic Pixie Dream Girl, who might, in fact, be a real love interest in the making. He even starts playing actual hockey with these Texans.
But the night of the prom, Norris screws everything up royally. As he tries to pick up the pieces, he realizes it might be time to stop hiding behind his snarky opinions and start living his life—along with the people who have found their way into his heart.
Frankly in Love by David Yoon
---
High school senior Frank Li is a Limbo–his term for Korean-American kids who find themselves caught between their parents' traditional expectations and their own Southern California upbringing. His parents have one rule when it comes to romance–"Date Korean"–which proves complicated when Frank falls for Brit Means, who is smart, beautiful–and white.
Fellow Limbo Joy Song is in a similar predicament, and so they make a pact: they'll pretend to date each other in order to gain their freedom. Frank thinks it's the perfect plan, but in the end, Frank and Joy's fake-dating maneuver leaves him wondering if he ever really understood love–or himself–at all.
book 1 in the Frankly in Love series
The Grace Year by Grace Liggett
---
No one speaks of the grace year. It's forbidden.
In Garner County, girls are told they have the power to lure grown men from their beds, to drive women mad with jealousy. They believe their very skin emits a powerful aphrodisiac, the potent essence of youth, of a girl on the edge of womanhood. That's why they're banished for their sixteenth year, to release their magic into the wild so they can return purified and ready for marriage. But not all of them will make it home alive.
Sixteen-year-old Tierney James dreams of a better life—a society that doesn't pit friend against friend or woman against woman, but as her own grace year draws near, she quickly realizes that it's not just the brutal elements they must fear. It's not even the poachers in the woods, men who are waiting for a chance to grab one of the girls in order to make a fortune on the black market. Their greatest threat may very well be each other.
Last Bus to Everland by Sophie Cameron
---
Brody Fair feels like nobody gets him: not his overworked parents, not his genius older brother, and definitely not the girls in the projects set on making his life miserable. Then he meets Nico, an art student who takes Brody to Everland, a "knock-off Narnia" that opens its door at 11:21pm each Thursday for Nico and his band of present-day misfits and miscreants.
Here Brody finds his tribe and a weekly respite from a world where he feels out of place. But when the doors to Everland begin to disappear, Brody is forced to make a decision: He can say goodbye to Everland and to Nico, or stay there and risk never seeing his family again.
Laura Dean Keeps Breaking Up with Me
by Mariko Tamaki
---
Laura Dean, the most popular girl in high school, was Frederica Riley's dream girl: charming, confident, and SO cute. There's just one problem: Laura Dean is maybe not the greatest girlfriend.
Reeling from her latest break up, Freddy's best friend, Doodle, introduces her to the Seek-Her, a mysterious medium, who leaves Freddy some cryptic parting words: break up with her. But Laura Dean keeps coming back, and as their relationship spirals further out of her control, Freddy has to wonder if it's really Laura Dean that's the problem. Maybe it's Freddy, who is rapidly losing her friends, including Doodle, who needs her now more than ever.
Fortunately for Freddy, there are new friends, and the insight of advice columnists like Anna Vice to help her through being a teenager in love.
Lovely War by Julie Berry
---
It's 1917, and World War I is at its zenith when Hazel and James first catch sight of each other at a London party. She's a shy and talented pianist; he's a newly minted soldier with dreams of becoming an architect. When they fall in love, it's immediate and deep–and cut short when James is shipped off to the killing fields.
Aubrey Edwards is also headed toward the trenches. A gifted musician who's played Carnegie Hall, he's a member of the 15th New York Infantry, an all-African-American regiment being sent to Europe to help end the Great War. Love is the last thing on his mind. But that's before he meets Colette Fournier, a Belgian chanteuse who's already survived unspeakable tragedy at the hands of the Germans.
Thirty years after these four lovers' fates collide, the Greek goddess Aphrodite tells their stories to her husband, Hephaestus, and her lover, Ares, in a luxe Manhattan hotel room at the height of World War II. She seeks to answer the age-old question: Why are Love and War eternally drawn to one another? But her quest for a conclusion that will satisfy her jealous husband uncovers a multi-threaded tale of prejudice, trauma, and music and reveals that War is no match for the power of Love.
The Memory Thief by Lauren Mansy
---
In the city of Craewick, memories reign. The power-obsessed ruler of the city, Madame, has cultivated a society in which memories are currency, citizens are divided by ability, and Gifted individuals can take memories from others through touch as they please.
Seventeen-year-old Etta Lark is desperate to live outside of the corrupt culture, but grapples with the guilt of an accident that has left her mother bedridden in the city's asylum. When Madame threatens to put her mother up for auction, a Craewick practice in which a "criminal's" memories are sold to the highest bidder before being killed, Etta will do whatever it takes to save her. Even if it means rejoining the Shadows, the rebel group she swore off in the wake of the accident years earlier.
To prove her allegiance to the Shadows and rescue her mother, Etta must steal a memorized map of the Maze, a formidable prison created by the bloodthirsty ruler of a neighboring Realm. So she sets out on a journey in which she faces startling attacks, unexpected romance, and, above all, her own past in order to set things right in her world. 
My Ideal Boyfriend Is a Croissant
by Laura Dockrill
---
It's a food diary. I have to tell the truth. That's the point.
Sixteen-year-old Bluebelle, also known as BB or Big Bones, lives her life unapologetically. She loves life! She loves food!
When BB has a worse-than-usual asthma attack, her mom insists she go to the doctor. There, she is told that she is overweight (no surprise) and prediabetic (big surprise) and must lose weight, move more, and keep a food diary. To get out of this immediate health crisis, she agrees to make an effort.
Then a tragedy occurs in the family, and things get seriously complicated. Suddenly, losing weight and moving more are the least of her worries. As for the food diary, though, BB doesn't just document what she's eating, she documents what she's feeling–and she has a lot to say!
Opposite of Always by Justin A. Reynolds
---
When Jack and Kate meet at a party, bonding until sunrise over their mutual love of Froot Loops and their favorite flicks, Jack knows he's falling—hard. Soon she's meeting his best friends, Jillian and Franny, and Kate wins them over as easily as she did Jack.
But then Kate dies. And their story should end there.
Yet Kate's death sends Jack back to the beginning, the moment they first meet, and Kate's there again. Healthy, happy, and charming as ever. Jack isn't sure if he's losing his mind.
Still, if he has a chance to prevent Kate's death, he'll take it. Even if that means believing in time travel. However, Jack will learn that his actions are not without consequences. And when one choice turns deadly for someone else close to him, he has to figure out what he's willing to do to save the people he loves.
Pumpkinheads by Rainbow Rowell
---
Deja and Josiah are seasonal best friends.
Every autumn, all through high school, they've worked together at the best pumpkin patch in the whole wide world. (Not many people know that the best pumpkin patch in the whole wide world is in Omaha, Nebraska, but it definitely is.) They say good-bye every Halloween, and they're reunited every September 1.
But this Halloween is different—Josiah and Deja are finally seniors, and this is their last season at the pumpkin patch. Their last shift together. Their last good-bye.
Josiah's ready to spend the whole night feeling melancholy about it. Deja isn't ready to let him. She's got a plan: What if—instead of moping and the usual slinging lima beans down at the Succotash Hut—they went out with a bang? They could see all the sights! Taste all the snacks! And Josiah could finally talk to that cute girl he's been mooning over for three years . . .
What if their last shift was an adventure?
Stolen Time by Danielle Rollins
---
Seattle, 1913 // Dorothy is trapped. Forced into an engagement to a wealthy man just so she and her mother can live comfortably for the rest of their days, she'll do anything to escape. Including sneaking away from her wedding and bolting into the woods to disappear.
New Seattle, 2077 // Ash is on a mission. Rescue the professor—his mentor who figured out the secret to time travel—so together they can put things right in their devastated city. But searching for one man means endless jumps through time with no guarantee of success.
When Dorothy collides with Ash, she sees it as her chance to start fresh—she'll stow away in his plane and begin a new life wherever they land. Then she wakes up in a future that's been ripped apart by earthquakes and floods; where vicious gangs rule the submerged city streets and a small group of intrepid travelers from across time are fighting against the odds to return things to normal. What Dorothy doesn't know is that she could hold the key to unraveling the past—and her arrival may spell Ash's ultimate destruction.
book 1 in the Stolen Time series
Stronger Than a Bronze Dragon by Mary Fan
---
When a powerful viceroy arrives with a fleet of mechanical dragons and stops an attack on Anlei's village, the villagers see him as a godsend. They agree to give him their sacred, enchanted River Pearl in exchange for permanent protection—if he'll marry one of the village girls to solidify the alliance. Anlei is appalled when the viceroy selects her as a bride, but with the fate of her people at stake, she sees no choice but to consent. Anlei's noble plans are sent into a tailspin, however, when a young thief steals the River Pearl for himself.
Knowing the viceroy won't protect her village without the jewel, she takes matters into her own hands. But once she catches the thief, she discovers he needs the pearl just as much as she does. The two embark on an epic quest across the land and into the Courts of Hell, taking Anlei on a journey that reveals more is at stake than she could have ever imagined.
These Witches Don't Burn by Isabel Sterling
---
Hannah's a witch, but not the kind you're thinking of. She's the real deal, an Elemental with the power to control fire, earth, water, and air. But even though she lives in Salem, Massachusetts, her magic is a secret she has to keep to herself. If she's ever caught using it in front of a Reg (read: non-witch), she could lose it. For good. So, Hannah spends most of her time avoiding her ex-girlfriend (and fellow Elemental Witch) Veronica, hanging out with her best friend, and working at the Fly by Night Cauldron selling candles and crystals to tourists, goths, and local Wiccans.
But dealing with her ex is the least of Hannah's concerns when a terrifying blood ritual interrupts the end-of-school-year bonfire. Evidence of dark magic begins to appear all over Salem, and Hannah's sure it's the work of a deadly Blood Witch. The issue is, her coven is less than convinced, forcing Hannah to team up with the last person she wants to see: Veronica.
While the pair attempt to smoke out the Blood Witch at a house party, Hannah meets Morgan, a cute new ballerina in town. But trying to date amid a supernatural crisis is easier said than done, and Hannah will have to test the limits of her power if she's going to save her coven and get the girl, especially when the attacks on Salem's witches become deadlier by the day.
book 1 in the These Witches Don't Burn series
Warhead: The True Story of One Teen Who Almost Saved the World
by Jeff Henigson
---
It's 1986, and Jeff is an average fifteen-year-old: he thinks a lot about dating, he bounces around with his friends, and he's trying his hardest to get a car. Conversely, the world around him feels crazy: the United States and the Soviet Union are at glaring odds, with their leaders in a standoff, and that awful word, "nuclear," is on everyone's mind. Then, boom–Jeff learns that he has brain cancer and it's likely terminal. Well, that puts a damper on his summer plans and romantic prospects, doesn't it?
Jeff's family rallies around him, but they are fiercely complicated–especially Jeff's father, a man who can't say "I love you" even during the worst of Jeff's treatment. So when the Starlight Children's Foundation offers to grant Jeff a wish, he makes one certain to earn his father's respect: he asks to travel to Moscow and meet with Mikhail Gorbachev to discuss nuclear disarmament and ending the Cold War. Nothing like achieving world peace to impress a distant father, right? Jeff has always been one to aim high.
Jeff's story is dark, but it's also funny, romantic, and surprising. As his life swings from incredibly ordinary to absolutely incredible, he grapples with the big questions of mortality, war, love, hope, and miracles.
Wayward Son by Rainbow Rowell
---
The story is supposed to be over.
Simon Snow did everything he was supposed to do. He beat the villain. He won the war. He even fell in love. Now comes the good part, right? Now comes the happily ever after…
So why can't Simon Snow get off the couch?
What he needs, according to his best friend, is a change of scenery. He just needs to see himself in a new light…
That's how Simon and Penny and Baz end up in a vintage convertible, tearing across the American West.
They find trouble, of course. (Dragons, vampires, skunk-headed things with shotguns.) And they get lost. They get so lost, they start to wonder whether they ever knew where they were headed in the first place…
book 2 in the Simon Snow series
We Hunt the Flame by Hafsah Faizal
---
People lived because she killed.
People died because he lived.
Zafira is the Hunter, disguising herself as a man when she braves the cursed forest of the Arz to feed her people. Nasir is the Prince of Death, assassinating those foolish enough to defy his autocratic father, the king. If Zafira was exposed as a girl, all of her achievements would be rejected; if Nasir displayed his compassion, his father would punish him in the most brutal of ways.
Both are legends in the kingdom of Arawiya—but neither wants to be.
War is brewing, and the Arz sweeps closer with each passing day, engulfing the land in shadow. When Zafira embarks on a quest to uncover a lost artifact that can restore magic to her suffering world and stop the Arz, Nasir is sent by the king on a similar mission: retrieve the artifact and kill the Hunter. But an ancient evil stirs as their journey unfolds—and the prize they seek may pose a threat greater than either can imagine.
book 1 in the Sands of Arawiya series
Wilder Girls by Rory Power
---
It's been eighteen months since the Raxter School for Girls was put under quarantine. Since the Tox hit and pulled Hetty's life out from under her.
It started slow. First the teachers died one by one. Then it began to infect the students, turning their bodies strange and foreign. Now, cut off from the rest of the world and left to fend for themselves on their island home, the girls don't dare wander outside the school's fence, where the Tox has made the woods wild and dangerous. They wait for the cure they were promised as the Tox seeps into everything.
But when Byatt goes missing, Hetty will do anything to find her, even if it means breaking quarantine and braving the horrors that lie beyond the fence. And when she does, Hetty learns that there's more to their story, to their life at Raxter, than she could have ever thought true.
With the Fire on High by Elizabeth Acevedo
---
With her daughter to care for and her abuela to help support, high school senior Emoni Santiago has to make the tough decisions, and do what must be done. The one place she can let her responsibilities go is in the kitchen, where she adds a little something magical to everything she cooks, turning her food into straight-up goodness.
Still, she knows she doesn't have enough time for her school's new culinary arts class, doesn't have the money for the class's trip to Spain — and shouldn't still be dreaming of someday working in a real kitchen. But even with all the rules she has for her life — and all the rules everyone expects her to play by — once Emoni starts cooking, her only real choice is to let her talent break free.